Happy Friday!!! I can't believe another week has passed and we are a week away from Halloween!!! Today I'm linking up with
Darci
(and others) again but also
Leslie
and her Confessional Friday.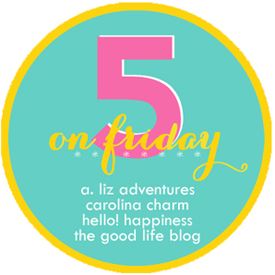 ~ONE~
I confess that I thoroughly enjoyed a few hours of alone time with my hubs on Tuesday morning. We were able to sneak away for a short hike. My daughter was in school and we dropped my son off at my mom's. It was a perfect, fall day. It was so nice to be able to enjoy some alone time in the peaceful outdoors.
~TWO~
And speaking of alone time, I confess that I am giddy over this new series the hubs and I just started watching together (Once Upon a Time). I know we are a little late to the party, but we bought the first two seasons a few years ago and just never go around to watching it. I'm sure it'll take us awhile to get caught up to the current season, but we're definitely enjoying every episode. It's seriously so good! Have any of you watched the show before?
~THREE~
I confess that I ate Oreos for dinner one night last week. #sorrynotsorry
I worked my usual 10 hour day, standing on my feet the entire time, and it was crazy busy. I came home just in time to put the kids to bed (hubs was working late) and was too tired to fix anything. And boy, were they good!!
~FOUR~
I confess that I'm super excited about the upcoming weekend. We have lots of fun things to attend and the hubs is off to join in the fun. I also hope to sneak in some family pics to be used in our Christmas card this year.
~FIVE~
I confess that I am over the moon excited about these gold sequin leggings I just purchased. I had been on the hunt for a pair for over a year. Then a few days ago one of my favorite boutiques,
Hazel and Olive
, had them on IG for sale. I was very quick to purchase them and I'm so glad I did b/c they are sold out now. Stay tuned for another post featuring my coveted shiny pants!
Have a great weekend!!